Why should you create a WordPress blog or website for your business? How do you create a WordPress website from scratch?
Let me answer the first question first, since it's an easy answer.
Then I'll show you step by step how to create a WordPress blog from start to finish, even if you're a beginner.
Why Create a WordPress Blog?
Why use WordPress or take the time to create a WordPress blog?
That's the question I asked myself many times.
I also asked myself, why not just use something like Weebly or Wix?
In fact, in the beginning I used both those platforms (as well as others) to create my initial website experiments.
But over time I noticed a few things.
They were clunky
They didn't rank well for SEO
The loaded slow (which also hurts #2)
They were difficult to customize (if it could be done at all)
At the end of the day… they are wayyy more expensive for less functionality.
But you know you need more leads for your business,
AND…
You know you need exposure to a larger audience, right?
Creating a blog is one of the best ways to do that.
The problem is, initially, it's easier to do on one of those other platforms.
What you need to understand though is that those platforms will never get you where you want to go.
Is WordPress the Right Vehicle for You?
Let me illustrate with a story.
One day, a man named Willis decided he was going to move from the harsh winters of Maine to the warm climate of Hawaii.
So he sold off his stuff to raise money for the move, packed everything he had into his car, and started driving west.
He figured the best place to start would be to get to California and then figure it out from there.
So he jumped on I-80W and started the 49 hour long journey.
As he crossed the state line, he could feel his excitement growing.
So he sped up.
When he got to the coast, he found an area where he could get his car on the beach.
It was already very late, so Willis parked on the beach and slept 'till morning.
When he woke up he was so excited.
He put his car in drive and drove into the ocean, continuing his journey west to Hawaii.
The water filled the car with water, then he drown and died.
—- end story —-
You're probably thinking, really?
Well, stick with me, there is a point.
In this story our hero was an idiot.
He believed he could use the wrong vehicle to get to any destination he chose.
That doesn't work in the physical world, so why do we sometimes believe that other parts of life won't be governed by the same laws?
Why Using WordPress for Your Blog is a Must
Just like the story of Willis, you will not get to where you want to go without WordPress.
Let's assume your goal (destination) is to rank in Google so you can get more leads and get more sales.
That's the end game in a nutshell, right?
The niche of ranking and SEO is a highly competitive field.
It isn't like it used to be. You can't just pump out content and expect to rank.
When you create a blog or website you are competing with billions of other webpages (literally).
If those site owners are driving Lamborghini's and you're in a Kia… you're not going to win.
In addition, those platforms have just a fraction of the functionality you can get with wordpress AND you don't have the monthly fee that those platforms make you pay.
Trust me from experience. I've used Wix, Weebly, and a few others because I didn't want to learn WordPress.
Eventually, I got to the point where I needed more functionality (among many other things). At that point I was forced to manually change over my site to a WordPress site and it was a pain.
I wish I would have started correctly from the beginning.
I would have saved time, saved money, and gotten better results.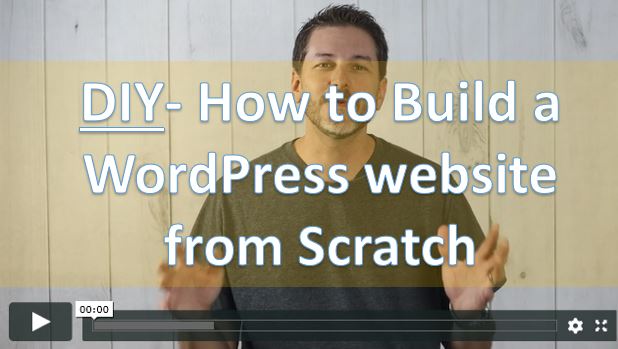 So in this blog post, I'm going to walk you step-by-step through how to create a WordPress blog, site, or website from scratch.
HOW TO CREATE A WORDPRESS BLOG
Whether it's for business or personal reasons, statistics continue to indicate that blog sites are on the rise and users are reaping the numerous benefits of blogging.
A blog site can help to improve your SEO ranking, increase brand awareness, and establish you or your brand as an expert in your field.
It is by far the way I generate the majority of my leads.
If you're thinking about starting a blog, the process is not as daunting as you might think.
If you opt for the best platform such as WordPress, you can have your blog up and running in no time.
Though I mentioned it up top, I want to repeat it.
I HIGHLY suggest using WordPress for several reasons:
It is simple, free, and loaded with features, plus WordPress sites account for 14.7% of the top 100 websites in the world!
Many of the top sites are going to be branded companies you wouldn't be competing with anyway (Google, Amazon, Coke/Pepsi, etc).
I would argue that if you took out the large brands, the percentage of the top 100 would be dramatically higher.
And who doesn't want to be among those statistics?
So if you're not sure how to get started; check out these easy steps for beginners:
Create a WordPress Blog
(Step by Step Instructions)
CREATE A WORDPRESS ACCOUNT
First, you'll need to visit the WordPress  website.
There you'll be asked to set up an account by filling out the required information such as a username, email address and password.
WordPress will send you an email to verify your account so check your email and click the link.
CHOOSE THE TYPE OF SITE YOU WANT
As a starting point, WordPress offers four main website categories to choose from.
You have the option to revert to something else if you change your mind later so don't worry about choosing the 'wrong' one. The options are:
Blog- If you plan to share or discuss ideas with your audience this might be the best selection. There are pre-set topics under this category such as food, photography, travel, film, sports, travel and people, or you can add your own.
Business- This selection is for business-related blogs and it also comes with pre-set categories along with an option to add your own.
Professional- If you're an architect, writer, editor, or web designer this might be the most ideal option to choose from.
Online Store- This one is self-explanatory and is designed for those who want to sell products online. There's an option to enter a keyword and a list of related domain names will be provided for you to choose from. If you already own one, there's also the option to transfer your domain name to WordPress.
CHOOSE A NAME FOR YOUR BLOG
This will be the next step once you've chosen a category from the list.
You should choose a name that is relevant to the content you plan to post on your site.
You'll then have to pick a domain name; I suggest something similar to your blog name to make it easier for people to find it.
Plus, you'll want some level of cohesiveness with your blog name and domain name.
If you name you want is not available, WordPress will provide a list of available options for you to choose from.
SELECT A PLAN
Next you'll need to choose a price plan that fits your budget:
Free- You can access variety of tools, themes and plugins to create a professional website, along with 3GB storage space.
Blogger– This option gives you a .blog domain, 6GB storage space and email support at $3 per month; ideal for bloggers.
Personal – At $5 per month you have access to 24/7 support, 6GB of storage, a custom domain and the option to remove WordPress ads from your site.
Premium – Tailored for freelancers, you get to control your content and all the tools needed to build a professional website for a monthly fee of $8. You get site monetization, VideoPress support and 13GB of storage space.
Business- Perfect for a business blog this option gives you access to Google analytics, live support and unlimited storage space for $25 per month. You can also upload your own themes, and even install custom plugins.
Ecommerce- Ideal for selling products online, this plan offers a flexible platform for your online store.
It offers unlimited storage space, ecommerce and marketing tools, and allows your site to accept payments from over 60 countries.
It is the priciest plan on the list at $45 per month.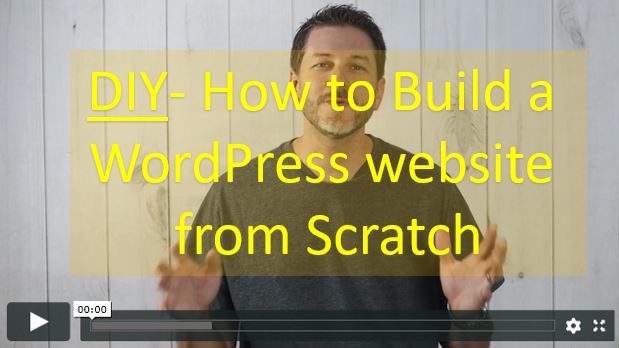 DESIGN YOUR WEBSITE
Once you make your selection from step 3, you'll be taken to your WordPress blog site.
This is where you can setup your blog before the page goes live for the world to see.
You'll need to confirm your email address by clicking the link sent by WordPress during the registration segment in Step 1.
Once you get to the site, you will see an option to create a tagline.
This should be a short, engaging sentence which gives readers an idea of what your website entails.
You can make it funny and creative because this ultimately what will convince readers that your site is even worth viewing.
CUSTOMIZE YOUR BLOG
Themes
It's now time to customize your blog to fit your style and the type of content you plan to post.
WordPress has countless free templates to choose from, which might seem a bit overwhelming at first.
However, the themes are easy to work with and you can further customize them to suite your style.
Furthermore, you can also select pre-set themes created for specific blogs such as restaurants, photography, music, poetry etc.
If you still haven't finalized what your site will be, there are also some themes that can suit many different types of post.
Also, if you choose a theme and change your mind later on, there is an option to switch to something else.
Just go to 'My Site' then click 'Themes' to select a new option.
Note: It can be tempting to get lost in themes and to look for the coolest one. I've tried all kinds of stuff and my recommendation is to get something build for SEO and speed.
It doesn't matter how cute your blog is if it doesn't get results and traffic from google (unless you already have an audience).
We use Schema by MyThemeShop, which is not a free theme, but it's built for speed and SEO, it has schema markup, and it automatically adjusts the page to fit the screen of the users device.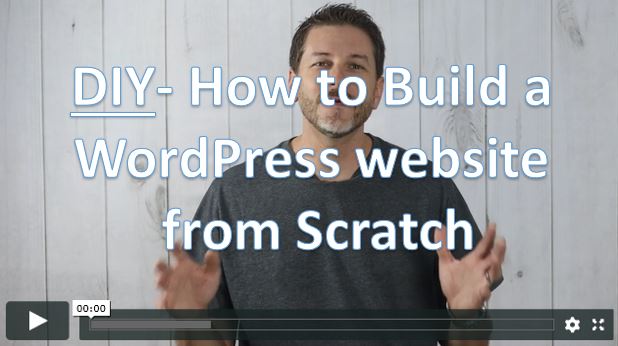 Backgrounds and Headers
Once you've decided on a theme it's time to fine-tune the other important elements of the site.
You'll notice a menu on the far left with a button that says 'Customize' this is where you'll find a list of selections to further modify your page with colors and backgrounds, fonts, header image, widgets, as well as menu and content options.
Tools
This is another important feature that you'll notice among the menu options.
It's where you'll find popular plugins such as Yoast SEO, WooCommerce, Google Analytics for WordPress and several others.
The 'Tools' section also has an import option where you can transfer your content into WordPress from other sites such as Blogger, GoDaddy, Wix, Medium, Squarespace or a WordPress export file.
Just click the 'Start Import' button and follow the directions.
CREATE YOUR BLOG POST
Now that your site is designed, the only thing left is content.
Remember that regardless of how people get to your blog site, it's the content that will keep them there— so make sure to have well-written, valuable, and evergreen content.
To create your first post click the button that says 'Site' among the menu options on the top left hand side.
Next click 'Post' and go to the option which says 'Add New Post' and create your content.
You can add images, links, excerpts and other options to enhance your post.
Ensure that your content is edited for grammar; spelling etc. then you can save a draft, preview your post or publish it to your website!
OTHER IMPORTANT WORDPRESS BLOG DETAILS
Your profile is very important to visitors of your site; adding a photo or logo legitimizes your page.
If you look at the top right of this page, there is a wealthanize "W" icon. Many brands use this function.
At the top right hand corner of WordPress you'll notice a silhouette of a person, click this button to update your personal information.
You can add an image, your full name, public display name, and even provide readers with some background information about your or your company.
You can manage your website from your phone or tablet by downloading the WordPress app.
On your 'Profile' page you'll notice WordPress logo at the bottom left (it might differ based on the version of WordPress that you're using).
Clicking the logo and will allow you to download the appropriate version for your computer or mobile device.
Since you'll be doing a lot of typing and manipulation of your content, you may not even want to use that option.
I've been doing this for many years and I've never used a tablet to modify anything on my site. It's just too cumbersome.
WORDPRESS BLOG SUCCESS!
Your website's success will ultimately depend on various factors.
Marketing your blog is an integral component in spreading awareness; use your social media sites to promote your blog and bring visitors to your page.
Content is also extremely important.
It's not just about the type of content you post but, about the consistency in getting these posts out to your readers.
Another important aspect of your content is SEO integration; luckily WordPress has these features incorporated in their site, you just need to familiarize yourself with the available options and see which ones work best for you.
Also, pay attention to comments and feedback from your readers so that you can create content that fits their need, and improve as time goes by.
Ultimately the key to blogging success is a mixture of consistency, high quality content, proper marketing strategies, and a little bit of luck. Of course, I think it was Mark Twain that said "The harder I work… the luckier I get".
As time goes on you'll learn how to utilize all the features that WordPress has to offer and with hard work your blog might even be in the statistics of top WordPress blogs online.
Create A WordPress Blog Tutorial
Learning how to Create a WordPress Blog from Scratch can be challenging and difficult.
It took me many successes and failures to get this blog to where it is at.
Luckily, my brother is a web-designer who learned how to create a website the old fashioned way (to create it from scratch by writing code).
So there is very little he can't figure out and any time I ran into problems he "helped a brotha' out"… literally.
So why am I telling you about my brother?
I've tried to make this post something actionable that you can implement right away.
But there is too much information to teach you everything in a blog post and I am not an expert.
I can get the job done, but that's about it.
However, getting a WordPress site up and and running is super important for your business.
If you don't have a site and you want to do it for a fraction of the cost it would take to hire somebody, I highly recommend my brothers course.
It's the one you've seen posted throughout this blog post and yes, that's my younger brother.
Now you know.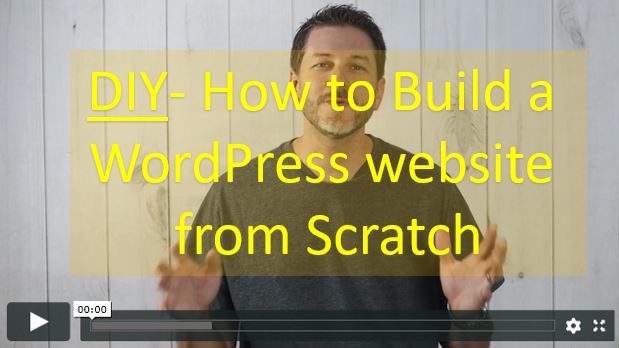 He is really good at what he does.
This course is for you if you want to build a blog with WordPress and words on the screen just aren't easy enough to follow.
It's a complicated process.
I couldn't have done everything myself without his help.
Sometimes, you need to see it on the screen.
When my brother teaches it, he shows you how to do everything step by step and actually walks you through it on the screen with video.
I can recommend his course for many reasons, but I'm going to give you the top 5:
He's my brother and I love him, plus he's a man of character so I have no problem recommending him to my audience.
He's extremely good at what he does.
He's been creating websites for over 10 years and charges upwards of $2,500+ per site (plus a monthly maintenance fee), so this is not some guy off the street who happened to make a site or two in his day (like me).
He explains why you do certain things a specif way (the right way), as well as show you how. (And trust me… the WHY is often more important than the how when it comes to SEO)
If you need a website or blog, your need will not go away. But I know that this price is going to go up- so you should buy it now… not later.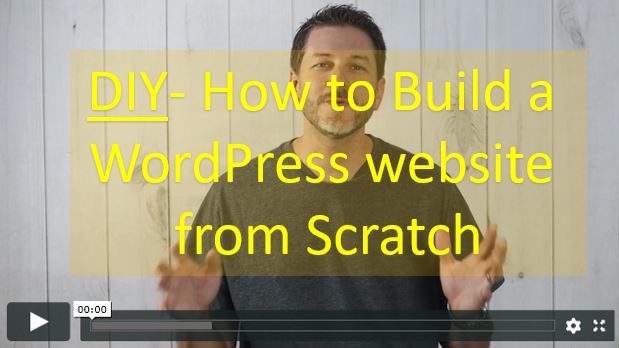 That's it guys.
I hope this post helps you get your website or blog off the ground.
It is currently the #1 source of leads for my business and I know it can do the same for you.
Attraction marketing is sooooo much more powerful than prospecting 1 on 1.
Remember, nothing changes unless something changes.
Nothing Changes... Unless Something Changes.
Click To Tweet
If you would like to have a personal relationship with Jesus Christ, we have a page dedicated to helping you do that.
Live Boldly. 
God Bless.